GreenBridge director Daniel Woolley recently attended the Sustainable Housing Summit in Auckland, which he said was well worth the time and cost of attending. He shares his experience & highlights.....
Having attended the last summit two years ago, I was once again impressed with the quality of the speakers, which started with a surprisingly impassioned and well informed talk from Phil Twyford - Labour's spokesperson for housing, building & construction. There was only one aspect of Mr Twyford's talk that didn't appear to meet with general approval in the room, which was his suggestion to loosen the current zoning restrictions in Auckland, to allow development of housing areas further out, while simultaneously developing effective public transport to these areas.
Comments from the other speakers were that although it would provide a short term lowering of the current house price frenzy, in the long term developing further out always brings increased costs to infrastructure and exacerbates traffic conditions. Which suggests we would be better off to follow the harder path of learning how to have our cities "grow up" and have good centralised medium and high density housing, rather than extend outward in an inefficient sprawl.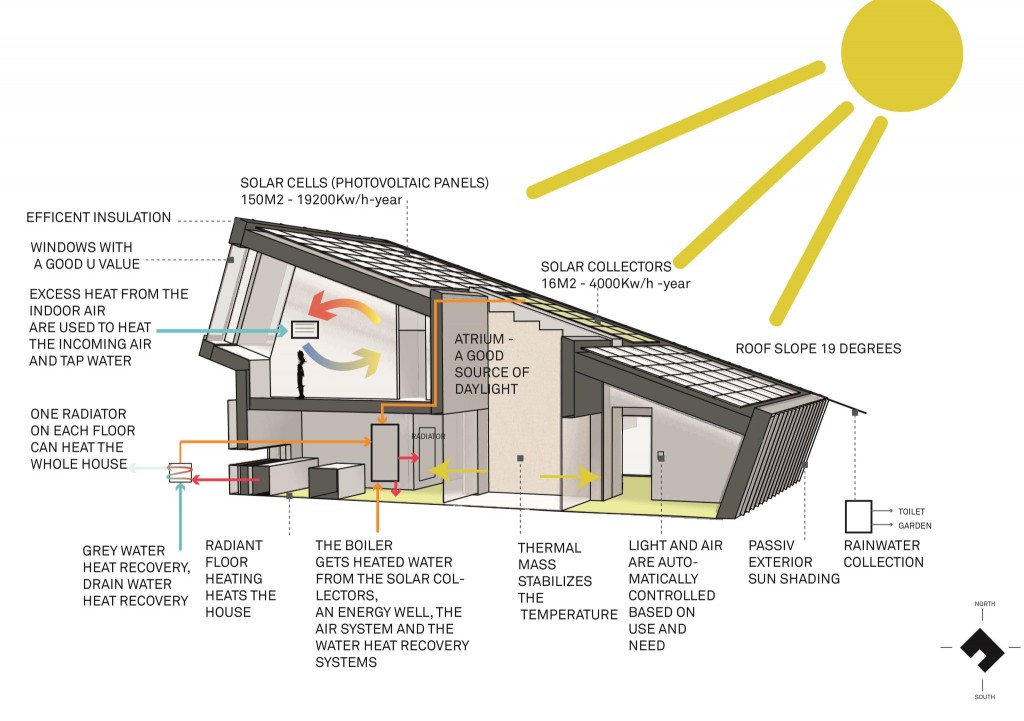 Above: schematic of the ZEB house in Norway.
The second speaker was Kristian Edwards, from Snohetta Architects in Norway who joined us to talk about the ZEB house (zero emission building). Some of the more interesting features of the house were:
-optimised solar control including a 50% reduction in solar gain to avoid overheating;
-zero VOCs (volatile organic compounds) used in construction and finishes;
-60% daylight autonomy to reduce the need for artificial lighting;
-geothermal heating used for radiant underfloor heating;
-greywater heat recovery; and
-sufficient power generation from solar PV to meet not only all of the house's running needs, but also to offset the construction's carbon footprint and power an electric vehicle for the inhabitants.
Although designed in collaboration with number of research bodies and therefore having a significant research/demonstration function, the building was designed as an example of a family home. The following three principles were followed throughout its design, planning and construction: AIM - Social Prosperity, MEANS - Sustainable Economy, PRE-REQUISITE - Ecological Balance.
The third speaker of the day was Andrea Reimer - a councillor of the City of Vancouver, which has been given the title of 'The Greenest City on Earth'. Ms Reimer gave an inspirational talk about how through applied leadership, planning, significant action, and accountability, a city can greatly alter its environmental performance over a relatively short period of time. Her talk provided us with a key understanding of how to engage a community to effect change (which is particularly relevant to GreenBridge's current project with NPDC to design Taranaki's first Resource Recovery Centre).

Above: Vancouver, the greenest city on earth.
Ms Reimer explained that concerted action and communication (increasing Eco-literacy) are the key ingredients to engaging a community. Action shows citizens that changes are happening, which engages both supporters and opposition to the proposed actions/changes. Check out some of the great initiatives and achievements Vancouver has accomplished on the Vancouver City Website.
Richard Palmer from WSP in Sydney outlined the importance and benefits of precinct infrastructure development (localised power, water, waste, etc) to being able to achieve sustainable urban transformation. With a background in sustainable building design, Mr Palmer has broadened his focus to infrastructure design, as he said he quickly recognised that it is infrastructure that has the largest impact on environmental and sustainable performance of large scale urban development.
Mr Palmer went on to point out that:
-onsite zero carbon is not a particularly useful concept;
-a minimum number of dwellings to warrant localised infrastructure is around 800 dwellings;
-the sustainable outcomes we are chasing in cities require increased density, infrastructure and public amenity (high quality public spaces, such as parks, shopping etc integrated); and
-it is through looking at how resources can be shared across a community that the real environmental and cost benefits are found.
And after a delicious lunch and mingle, Damian Otto from Prefab NZ talked us through prefabrication as an essential strategy for certainty in sustainable housing outcomes. Mr Otto asserted that to achieve this, we should know 80% of a building from day one, and that although the current prefab model is based around mass duplication, that disruptive technology and processes will lead to future prefab processes that allows for mass customisation. He went onto say that we need to develop productive processes that are scale-able. Mr Otto also spoke about the benefits of using timber structures in tall (multi level buildings) and asserted that "Design is Key" and that to achieve a positive outcome it is imperative that you know your team from design to implement.
With a large increase in Homestar house ratings, New Zealand Green Building Council CEO Alex Cutler asked the question "are finally getting to the tipping point of green design in NZ"? - I'll leave you to ponder the answer…
Steve Evans - the Chief Executive of Fletcher Buildings Land & Development spoke about Christchurch's East Frame and after yet another snack and mingle, the audience had the opportunity to pose questions to a panel in an open mic situation, which bought about some rich discussion.
Above: Nightingale multi-residential housing in Melbourne.
James Legge from Six Degrees Architecture in Melbourne then took us through a case study of The Nightingale Model, which looks at development partnerships and processes applied to disrupt speculation within multi-residential housing development. A very enlightening talk that is relevant to the co-housing groups both here in New Plymouth and around the country (or in fact any developer looking for ways to reduce the cost of housing to their clients). Mr Legge asserted that a key ingredient to making medium and high density projects in cities successful at a social level, is to give the ground floor over to the public domain. Check out http://nightingalehousing.org/ for insights.
Adam Beck from the Centre for Urban Innovation is Brisbane was the last speaker of the day, in which he spoke about his work in North America and IAP2 Public Participation Spectrum and "Collaborative Governance" as a key tool for moving from consulting through to empowering partners of a project - regardless of scale or who is running it.
Mihingarangi Forbes who had been our MC for the day (and did a great job of it) then sent us out to enjoy yet more food and a glass of wine to loosen us up for further discussion. Needless to say, I left with both a full head and stomach, without the need for dinner when my plane arrived back in New Plymouth later in the evening.